Founder, CEO, & Artistic Director
of Finest City Improv
Founder & Producer
San Diego Improv Festival
Experience
Amy has more than 25 years of experience in business and the arts. She graduated from the Second City Conservatory, trained at iO West, is a member of the Applied Improvisation Network and studied with dozens of master improv teachers from around the country. Amy is a Vistage Speaker; a certification she uses to help executives become more adaptive leaders through the principles of improv.  As a certified Speechless presenter and facilitator, she enables professionals to conquer their fear of public speaking. She can be found performing improvisational theater on the FCI stage with Camelflage and Swim Team.
Publications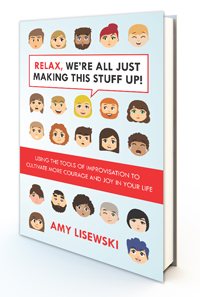 Check out Amy's first book, "Relax, We're all Just Making This Stuff Up!" now available on Amazon.
LIFE BEFORE IMPROV

FREE TIME?
When she's not making people laugh for a living, training executives to build and lead the best teams possible, winning awards and emceeing events around Southern California, Amy sails as a member of the San Diego Yacht Club. She has written and performed the club's annual roast, combining her love of improvisational comedy with sailing.
Amy is a former foster mom and a has a dog named Captain Louie.