are you ready for more joy in your life?
Get the book that gives you the courage to plan less and play more!
AVAILABLE ON AMAZON
---
The tools improvisers use to create wonderful—and often hilarious—moments on stage are easily transferred off the stage and into real life. These tools have improved my life immensely, and I want to share that with you.
In this book, you'll find some of my favorite improv exercises as well as real-life examples of how our students' mind-sets and lives have grown and become ultimately fulfilling through practicing improvisation.
This book was not written for natural-born performers, comedians, or people with "talent." It's for everyone, including introverts like you and me.
I want to see you living the life you are meant to live, now. I want you to experience true happiness; and practicing improvisation is the most enjoyable, and fun, way to get there.
Amy Lisewski, Founder & Artistic Director — Finest City Improv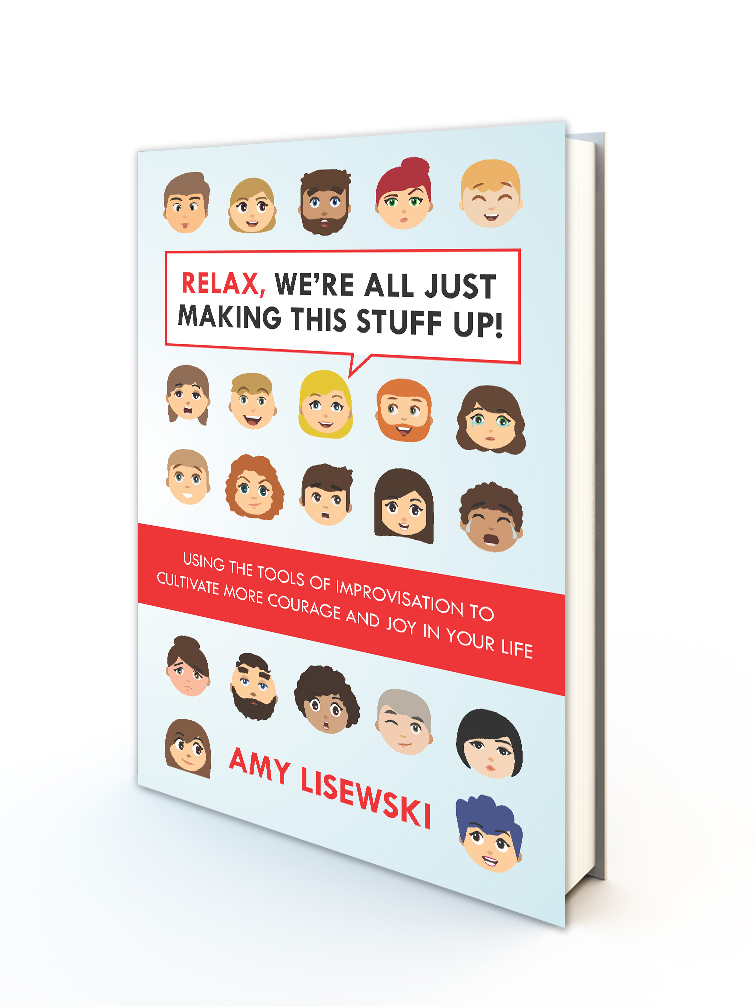 If you desire to create the life you are meant to live but aren't sure how to start on that journey, then this book should go straight to the top of your reading list. JJ Virgin CNS
CHFS Celebrity Nutrition & Fitness Expert, Author of the NYT bestsellers: The Virgin Diet & Sugar Impact Diet
With wit, warmth, and an improviser's generosity of spirit, Amy Lisewski shares inspiring stories and super-fun improv games that reveal the life-changing power of this amazing art form. Two enthusiastic thumbs up!
Martha Barnette
Host of the nationally syndicated public radio show A Way with Words
If you've been hungry to connect with your true calling but aren't sure how to start on that journey, this book should go straight to the top of your reading list. . . As Amy teaches . . . "always add!" And adding the teachings in this book to your success tool box is a winning moveLisa Sasevich
Author of www.BoostYourSalesBook.com, The Invisible Close
Amy is a joyful badass* who practices what she preaches. She shares the precepts of improv that give you tools that can be easily applied to so many facets of your life. If joy in your personal and professional life is your ultimate goal, this book is for you.
Susan Messing
Improviser Badass at Large *because it takes one to know one
Improv will make you better in all aspects of your life. You don't have to be an improviser to read this book. Start your own journey today by reading Amy's book, and start feeling the power of yes!
Nick Armstrong
Founder of Camp Improv Utopia and Co-Founder of The Improv Network
Exactly what anyone who wants to be more authentic, vulnerable, captivating, courageous and charismatic needs in their toolbox. . . . Next stop for me is improv! I'm inspired to take things to the next step, and Amy can certainly inspire you, too!Mike Koenigs
Serial Entrepreneur and 10-Time #1 Bestselling Author www.YouEverywhereNow.com
From the Introduction
---
We all spend much of our time just making stuff up.
Whenever something unexpected happens, we must improvise. We must think and act on the spot. For some of us, this presents interesting opportunities; for others, it feels like a catastrophe.
For me, the blank stage represents limitless possibility. But for most people in this world, it is pure terror. Remember when your third-grade teacher asked for someone to come to the front of the room and read aloud from the book? I was that one kid who volunteered so much that eventually my teacher had to preface her request with, "anyone besides Amy." Were you that kid, or were you like 90 percent of the kids who slunk down lower in their desks and avoided eye contact with the teacher at all costs? Did you worry about what would happen if you tripped walking up to the front? Did you imagine coming to a word in the text that you couldn't pronounce? Did you assume this was the day you would let loose the mother of all farts and ruin your reputation before you even had a chance?
Improvisation is being asked to read in front of the class but to leave the book at your desk. So it's just you tripping, making up words, and very likely farting in front of everyone. And then you get lots of applause and people wonder how you can be so brave. This book is about just that and so much more.
Stage improvisers are some of the most daring, agreeable, and creative people I have ever met. When we step off stage, the training and preparation we have had does not leave us. It influences every aspect of our lives. Improv has made me a happier person. Because of that, I have dedicated my life to sharing this art form with others and using it as a tool for people to take more risks and find more happiness in their lives. When people have the confidence to try new things, meet interesting people, explore a new career, or simply express their thoughts without fear of tripping and farting and ruining their lives, they are happy.
Though I started improvising as a way to show the world how bold and creative and talented I was ("look at me!"), I continued it because of the incredible support and close connections I have made with others who improvise, and because of the hundreds of students from all walks of life who have found that their lives are better if, every now and then, they raise their hand, stand up, laugh more, and, sometimes, just let one rip.
If you want to open up new possibilities for your life, improv is for you.
You can easily use the principles I have learned to create the life you've always dreamed of without ever setting foot on stage. As you will discover, learning and practicing improvisation will completely transform your life. Your future will go from a tunnel—just one visible route from point A to point B—to a playground of opportunity in which you have the courage and the tools to choose the game you want to play, and to love doing it! As new things arise in your life, you will know how to embrace the change and add your own contribution to create the best possible outcome.
about the author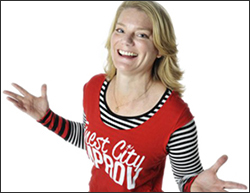 Amy Lisewski is the founder and artistic director of Finest City Improv. She has over twenty-five years of experience in business and the arts. She is a graduate of the Second City Conservatory and has trained with dozens of top improv teachers from all over the country. She travels the country as a Vistage speaker to demonstrate how leaders can use the principles of improvisation to improve their leadership skills. She loves the stage and seems to find one wherever she is. She is also a foster mother and an avid sailor, taking risks at home and at sea.
Chapters
---

What is improvisation?
By reading this book you will begin an important journey of growth and self-improvement centered on quieting your inner critic, trusting yourself more, developing more courage, connecting more with others, realizing your full potential, and, most of all—discovering more joy in your life!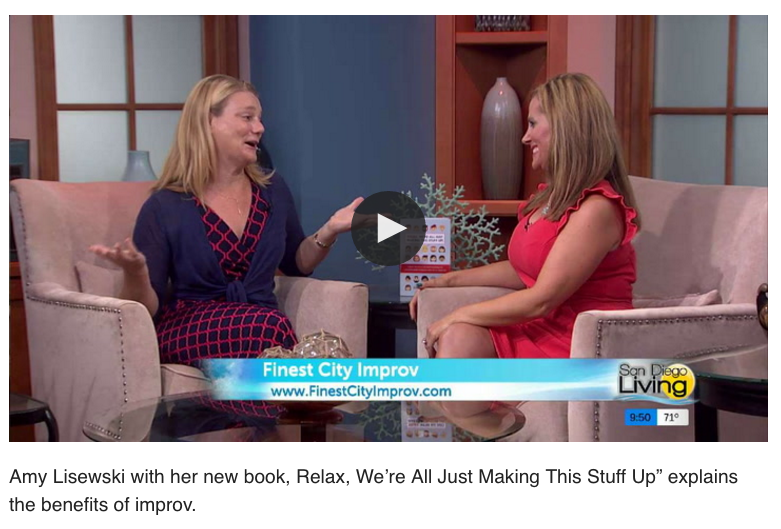 Buy The Book
---
Finest City Improv Theater
Purchase a hard cover or soft cover copy at the box office Thursday through Sunday evenings.
Amazon
Hard cover, soft cover, and Kindle versions available.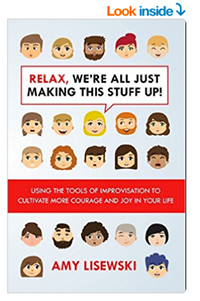 ---