Want to book a class, company event, or get info on shows? We send out a message of upcoming events and specials to our mailing list about once or twice a month. You can also call (619) 306-6047 or email info@finestcityimprov.com and we'd be happy to help you!
More Joy.
Guaranteed!
In everything we do, our community comes first. When you are happier, we are happier. From performers, to students, to loyal fans, and first time visitors, we promise a playful and return-worthy experience. Let us know how we are doing and what we can better!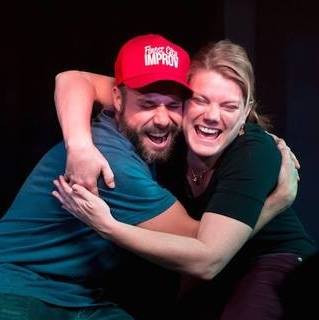 Our Core Focus
We entertain, inspire, and bring joy to people with our talent and passion for improv and its transforming effects.
OUR CORE VALUES
CULTIVATE FUN, HAPPINESS, AND A LITTLE WEIRDNESS IN EVERYTHING AND EVERYONE.
Improv has made us happier people. We have chosen to spend our lives living, breathing, and sharing improv with others because it is how we stay funny, happy, and delightfully out of the normal comfort zones. Every audience member, student, client, and team member will be delightfully surprised by the degree to which we to help them discover more joy in their lives with what we do.
ENSEMBLE FIRST.
We believe that improv, like other art forms, should be a safe space to make others uncomfortable by taking intellectual, artistic, and personal risks. As highly creative people that push at the boundaries of what is currently "acceptable" we are always at risk for being misunderstood. Therefore, we also believe in first assuming good intentions when misunderstandings happen or offenses are taken and engaging in direct face to face healthy debate on the merits of these actions.
CREATIVE RISK-TAKING
The only star in an improv is the ensemble itself. We embrace everyone on our team and in our community with a spirit of generosity and respect. Our collective impact is greatest when we rely on, help, and challenge each other to be our best. We take a collective bow as a team and accept the applause with pride. We are the most inclusionary, fun, and supportive home to improvisers in San Diego.
More Ways To Connect
FB page: See what's happening each day and check out tons of great show photos
Instagram: Enjoy great moments happening at our theater and in our community.
FB Student & Performer Group: Join the conversation for the most active members of our community.
"INSPIRED": Our blog with new show and class announcements plus musings from our instructors, directors, and special guests.