What more could you achieve if you had more confidence to speak up?
Women and girls often have trouble speaking up in the moment, expressing themselves in front of groups, and simply "putting themselves out there."
Speak Up! helps women and teenage girls cultivate confidence to address the "confidence gap."
What could you achieve at work, at school, or in your personal life if you had more courage to speak up?
---
Evidence shows that women are less self-assured than men—and that to succeed, confidence matters as much as competence.
---
Using exercises and tools from improvisational theater and leadership training, this program guarantees to help you:
Identify your comfort zone (so you can expand it)
"Make friends" with your inner critic
Become more comfortable with vulnerability
Express yourself to others (and in front of groups!)
Promote yourself without feeling like a braggart (and take the applause!)
Are opportunities slipping by because you lack the courage to raise your hand, speak up, or take action when they arise?  Do you cringe when asked to speak in front of others or promote yourself to a group? This new one-day workshop is designed for you!
I remember early in my career that sometimes I would have a thought in my head, but I lacked the confidence to be able to get that thought out. Then I would hear, usually a man, say the point that I had in my head, and I'd kick myself.
About the Instructor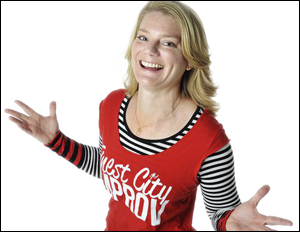 Amy Lisewski is the founder and owner of Finest City Improv and is known for ensuring that everyone in her classes feels supported and included. Amy's classes are both fun and challenging so that learning and growth are guaranteed.
She is the author of the Amazon best-selling book, "Relax, We're All Just Making This Stuff Up!"  She is a certified Vistage speaker, helping executives become more effective and courageous leaders using the principles of improv. She has given keynote speeches and led workshops for dozens of companies including Sperry Van Ness, GoPro, WD-40, Kaiser, and Reef. She earned a Master of Library Science degree from SJSU and worked for 15 years as a corporate librarian before becoming an improviser and speaker. She is an alumnus of Teach For America in New Orleans where she taught middle school and first grade.
Amy is a self-proclaimed introvert with the courage to raise her hand and ask for what she wants, even in front of thousands.
Register before April 1st to take advantage of our the early bird discount and ensure your spot in Speak Up!
PLUS... for every woman that registers for our adult Speak Up! Workshop we will register a teen for FREE in our teen workshop.  Know a teen (15-19) that would benefit from this workshop?  Let us know!
The instructor is amazing! She has so much to offer her audiences, and I saw how I think about myself and how I move in the world from a completely new point of view.
Amy was 100% attentive to group and individual needs, truly inclusive. She had us fully engaged in experiential learning the whole time.
Amy really helped to get you out of your shell and make sure everyone was heard.