Lisa Farnan is one of those people with a smile that makes everyone feel awesome. Her supportive and fun loving ways made her a hit with her fellow classmates and we love her at FCI because she is always willing to say "YES!" to new opportunities. Also– she is pretty rockin' at the air guitar. That is why Lisa is in our Student Spotlight this month!
Meet Lisa
Lisa's journey to improv in her own words
Is there anything better than bringing a smile to another person's face?  (Okay, maybe making someone laugh so hard they shoot whatever they are drinking out of their nose.)  I live for these simple joys, and make a concerted effort to seek out the fun, light hearted moments in life.
In August 2015, I returned to Oulu, Finland for a week of festivities leading up to the annual World Air Guitar Championships (yes, that's a thing). While there, I attended a truly spectacular and energizing musical performance by the group Airnadette.  I have never wanted to be on stage more than I did in that moment watching their show and the way they entertained and thrilled the crowd. If I had to pick out a single moment that really gave me a push to pursue performing, that was it.  
I had casually dabbled in drama (including improv) in high school and loved it, but life got busy and I never put much time or commitment into it.  I've been involved in the competitive air guitar community for the several years, and some of my dearest air guitarist friends are also involved in improv across the country.  I've always admired their ability to perform and entertain others, especially in the second round of air guitar competitions, which is entirely improvised!  I left Finland resolved to look into local improv programs in San Diego.  After doing some research, I was trying to decide between Finest City Improv and a couple other programs in town.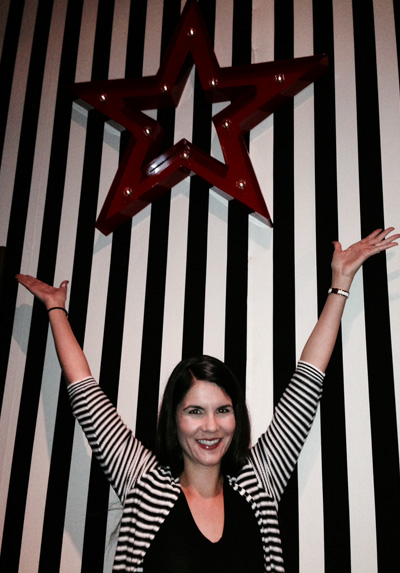 Call it luck or fate, but shortly thereafter I was at a going away party for a friend where I met Brandon Hensgens, who was my friend's improv partner.  I asked Brandon about the San Diego improv scene, and he suggested I check out a free class that was coming up at FCI.  So a couple weeks later I found myself in Tommy Galan's Discover Improv workshop (which was awesome!), and I officially registered for Level 1.  
I have had the most amazing instructors at FCI.  My Level 1 class was with Kat Brown who radiates positive energy and encouragement.  Any apprehensions I may have had before the first class quickly melted away in the supportive learning environment that she facilitated for us.  A few classes into the Level 1 term I knew I was hooked, and I eagerly signed up for the next level!  My Level 2 and Level 3 instructors (Amy & Dino) have been a great balance of being supportive but also challenging me to grow in my performance skills.   
What I love most about studying improv:
Getting to know some really awesome people as we take classes together, and laughing our asses off as we create some truly ridiculous scenes

Conquering the butterflies I feel before going on stage, and the rush I feel after performing

Challenging myself to think quickly on my feet while giving myself permission to fail spectacularly- which is especially tough as a Type A personality with perfectionist tendencies
Having a creative outlet to counteract the days I don't get to be especially creative at work
Learn how improv can help in your life and try a free class!
---
This article is part of the Community Spotlight Series highlighting our amazing students, teachers, and performers.
Are you an FCI student or graduate that has a great story to share? We'd love to feature you! Let us know.