adele dazeem
Adele Dazeem is an all lady,all musical, and all around hilarious team based in LA. Kat and Jesse sat down with them and asked some hard hitting questions to get to know them better. Do you have another question for them? Come meet them in person this Friday night!
Oh, definitely Elmo. What? He's not a Muppet? Ah shoot okay, then def Bert. That's not a Muppet either? Okay, then I guess I don't know who any of the Muppets are.Leah Knauer
1. What Lush bath bomb flavor do you most identify as/with?
I love the Yoga Bomb because yoga is da bomb!- Alexa
Whichever one is too frugal to buy Lush bath bombs.-Leah
The all gold sparkles bar. I'm the poorest girl with the most expensive taste–oops.-Rachel
Just looked them up. I'm gonna go with Guardian of the Forest. It sounds like it needs to have control. -Christine
I'm embarrassed to not have one but confident that that's okay.-Sally
2. Pants or Skirts?
I enjoy both, but I'm usually in American Apparel Easy Jeans. I had to buy like 5 pairs before they went out of business!- Alexa
Skirts – more breathability, baby!- Leah
Both and shorts and dresses and fashion is my passion.- Rachel
If I'm being honest… pants. Yoga pants. Lazy and forgivable when bloated.- Christine

Pants. Leggings.- Sally
3. How do you take your hotdogs?
Ketchup, Mustard, and Onions!! YUM!!- Alexa
In a bun, with a medium amount of ketchup. If it's even touched mustard or pickles, I will gag.-Leah
Mmm hotdogs. Mustard, and I could go without the bun!- Rachel
With ketchup and mustard on a gluten free bun please- Christine
Lots of ketchup. Lots of mustard.- Sally
4. What is your most memorable song you have improvised?
"Cruisin' For A Dick" is the first one that comes to mind! It was at the beginning of our journey together, and it totally confirmed my love for these girls. I knew I was home. -Alexa
"Cruisin' for a Dick". It was one of our songs from a rehearsal about how girls get thirsty too and sometimes you just gotta get your girls in the corvette and cruise around lookin' for some Grade-A D. We all had so much fun making each other laugh during that song.- Leah
Pottery Barn, In Cummin' for You. (Nuff said, don't misspell it)- Rachel
Years ago in a musical improv class, I sang a duet with my scene partner. It was about love and letting go and it was honest. I don't even remember if it was funny, I just remember the feeling it gave us. We all had tears in our eyes by the end. Maybe we just
needed a therapy session but I'll never forget it. -Christine
Singing about relationship heart ache- Sally
5. Most embarrassing moment as a child?
Well, a lot of my most embarrassing moments have taken place during my adult life, but I do have one that stands out!
I was a competitive dancer from age 8 to age 14, and when I was 12, my team made it to nationals in Las Vegas! In our huge number that we had worked all year on, I had a solo part where I would go into the middle of the stage and do a headstand. After months of prep, the day had finally come! Such a rush! The number was going great, but when I got to the middle of the stage to do my
headstand, my whole top completely flew off! It was Velcro, and it completely failed me. I had to freestyle and simultaneously cover my boobs. At least I can
say I've flashed my tits in Vegas! -Alexa
Probably my childhood.- Leah
4 till now.- Rachel
Lol let me get you my novel. Let's go with the time I brought myself a balloon to school on my birthday so that I would look cool.-Christine
Slamming the door on the mail man- Sally
6.Favorite warm up game?
Beastie Rap!- Alexa
Beastie Rap. Anyone who's been on a team with me can attest to how often I beg everyone if we can warm-up with it.- Leah
"Your Love" where we rap and compare love to everything from nature to light bulbs.- Rachel
I love doing sound bombs with the girls. We often end up creating really moving pieces without any words.- Christine
Mind meld- Sally
7. Did any of you vote for trump?
HELL THE F#CK NO! -Alexa
Nah, #ImStillWithHer bro- Leah
HELL NO, of course not.- Rachel
Not a chance in hell. We're living in an SNL sketch.- Christine
NOPE NEVER- Sally
8. Preferred Muppet?
COOKIE MONSTER IS MY MAIN MAN!!!! -Alexa
Oh, definitely Elmo. What? He's not a Muppet? Ah shoot okay, then def Bert. That's not a Muppet either? Okay, then I guess I don't know who any of the Muppets are.- Leah
Never really got into muppets, my bad.- Rachel
Probably the one that lives in the trash.- Christine
Eh- Sally
9. If you were an animal what animal would you be and why?
Definitely a dog. A golden retriever!! I have always felt like I'm a dog trapped in a human body! Ask anyone who knows me, they will agree! -Alexa
Leopard – they're sexy, fierce, loyal, sassy, but also very loyal and protective. Also, they make for an adorable print on a handbag or shoe. -Leah
I'm a deer (in the headlights)- Rachel
A bird. I really want to fly.- Christine
Sloth so I can manage my anxiety better and relax- Sally
10. What are you looking forward to doing in San Diego the most (besides perform at Finest City obvi)
Hanging out and exploring with my favorite girls in the world (my team)!! -Alexa
Eating fish tacos and ice cream on the beach in PB with my 'Zeemers!- Leah
Going to a brewery!!!- Rachel
Breathing fresh, quality air and basking in the sun with the girls.- Christine
Bonding with da girls.- Sally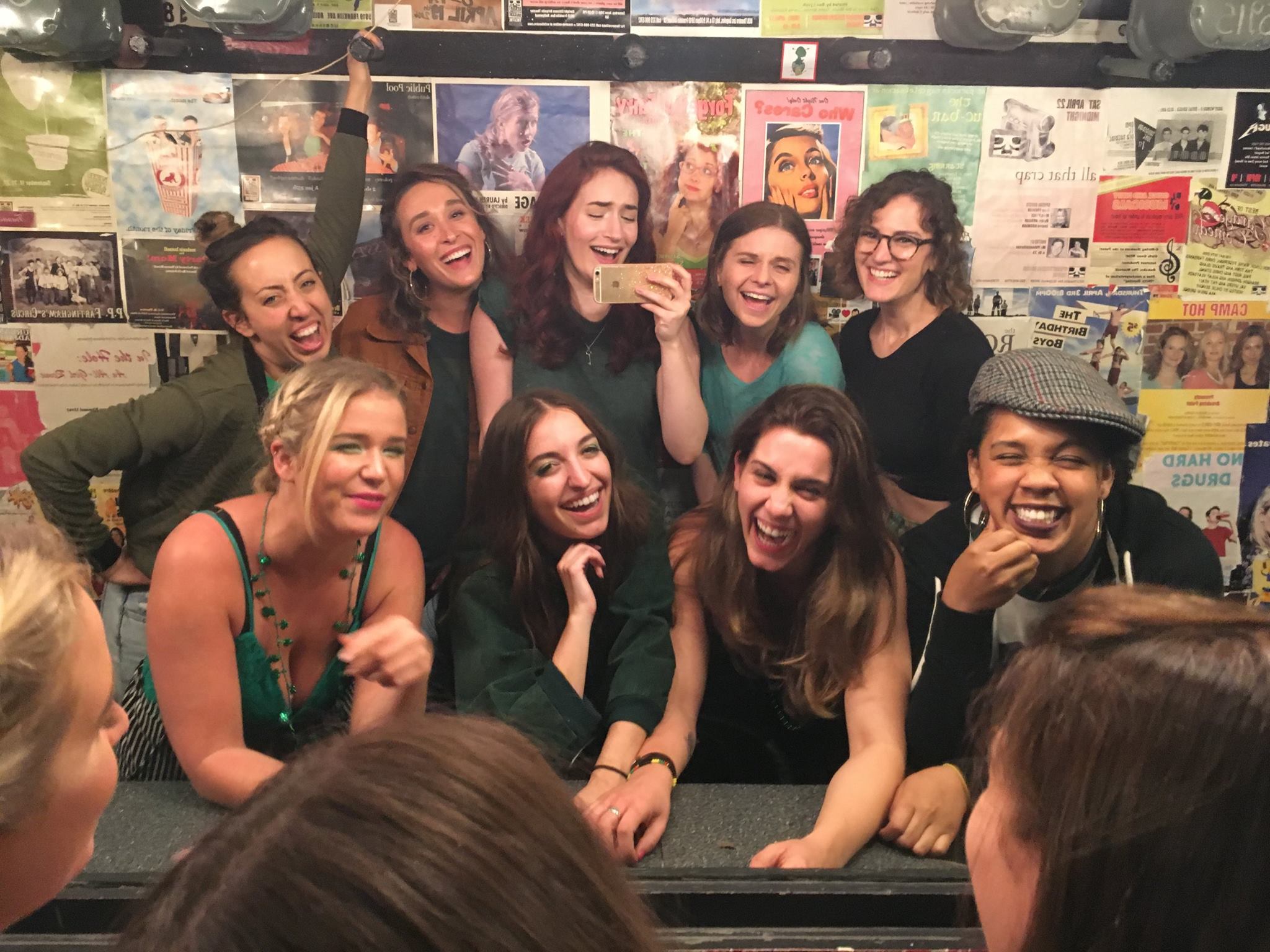 Get Tickets Here