Finest City Improv is excited to once again celebrate Pride with the San Diego LGBTi community.  This year, we are taking our pride participation up a level and producing the nation's first Pride Improv Comedy Festival!
As in past years, we will be marching in the Pride parade on Saturday, July 15th.  Want to participate?   Our group meets on Centre St. between Polk and Lincoln should get rolling by 1pm.  Wear your Pride and FCI gear and come have fun while showing your pride and representing FCI!
This year we will also be represented at the Pride Music Festival in Balboa park all weekend long.  Stop by our booth to enter our raffle and have a laugh with us!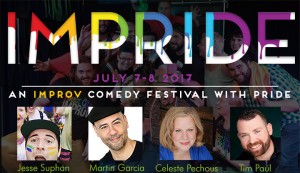 IMPRIDE, "an improv comedy festival with PRIDE!", takes place the weekend before Pride here at Finest City Improv.  Produced by FCI's Jesse Suphan with co-chair Celeste Pechous from Los Angeles, Impride is two nights of improv, July 7th to 8th, from some of the best LGBTi performers in the nation plus a full day of workshops by Tim Paul, Martin Garcia, Celeste Pechous, and Jesse Suphan.  Friday night features the Absolutely Fabulous Improv Show with special guest Justin Sayre!  $15 from every show ticket will be donated to Pride's youth arts programs.