How do you celebrate 5 years of memories, hundreds of improv teams, thousands of shows, and tens of thousands of audience members?  You throw an improv marathon!
Finest City Improv is leaving our current home attached to the Lafayette hotel and moving to a new space in Hillcrest (3746 6th Avenue).  Our very last laughs (aka LAFFS) at our flagship location will be December 15th at 11:59pm.
For 29 straight hours leading up to midnight on the 15th we will be hosting a non-stop improv party featuring SEVENTY different shows and teams! It's an amazing celebration of the growth of improv in San Diego over the past 5 years and we'd love for you to join us.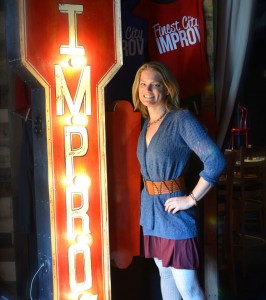 Best of all, by attending or participating in this event you will be helping us make this move to our new location and keeping our improv community going strong in San Diego for years to come!
The suggested contribution for the entire weekend is $29.  That's $1 for every hour of non-stop improv!  Everyone that contributes $29 or more will receive a special commemorative gift... and, more importantly, an improv community that keeps on giving back to you.
Our goal is to raise $6,000 to help with moving and set-up costs at our new location (permits, licensing, construction, etc.). You can help by purchasing a $29 improvathon pass, contributing more via Venmo (@finestcity-improv), contributing to or bidding on fun auction items at the event, enjoying our pancake breakfast or Shermer High cafeteria lunch, or just contributing a few dollars online below!
Thank you for saying Yes! And... to the hundreds of improv fans and community members that call FCI "home."
schedule
FRIDAY, 12/15
7pm
What better way to kick-off a celebration of our 5 years with 2 Level 6 graduations and our 3rd Conservatory graduation!
Level 6 & Conservatory Graduation Shows! REQUIRES A SEPARATE TICKET - BUY NOW! (We are offering a separate ticket for this show to ensure the friends and family of our graduates can guarantee seats. Improvathon pass holders will be seated space available at 6:55pm)
Then...
We are throwing open the barn doors between the lobby and the theater just like we had when we started shows there! 
All acts will have approximately 20 minutes to perform. There will be NO BREAKS between sets or show blocks!
8:30pm
FCI's Subject to Change
9pm
FCI's Killer Giraffe, Mutiny, Jackie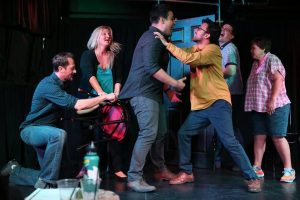 10pm
FCI's Camelflage, BJ, Jumpsuit
11pm
RC Georges, Graduates from our training program in 2013 reunion jam, SheBang
(Saturday, 12/16)
12am
Sinister M.O., Fart Doctors, Brown Privilege
1am
Nightcap with the cast of A Single Lady, Brewschool'd is back in school, Freeze Frame
2am
Late Night Munchies with the Hussies (PIZZA!!!) Open JAM, Ya Hussies, Terra Squad
3am
The 3am Throw Down! All past contenders of Improdomes, Chopped, and Cage Matches of yesteryear are invited to go head to head in 5 minute throw downs (or slow down?!)
4am
Don't Drop Out! Keep laughing with The Drop Outs and Media Res
5am
Powerpoint Karaoke Lip Sync Battle. Â It makes little sense but what does at 5am?!
6am
Morning Routine with Bed Bath & Bad Decisions (come play warm-up games!)
7am
Soldier on with Unknown Soldiers, Poof Bag, and Brother Benjamin
8am
Look What We Found!… COFFEE!!!  Coincidence?! Wake up with the clowns of Look What We Found and improv with Coincidence?! and Belle Reve
9am - Pancakes & Jam
Them Pancakes!  Eat Them pancakes with jam on top!  It's a pancake breakfast with a performance by THEM plus a morning jam session open to all.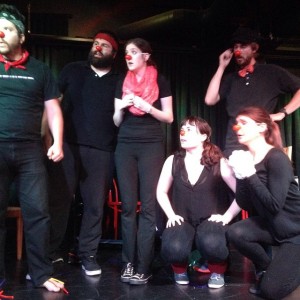 10am
Busy Signal, Tribal Luminesence, My Blood Valentine
11am
High Note, Sad Boys
12pm - Cafeteria Lunch!
Shermer High opens the cafeteria lunch (we're cooking up weenies) with Co-Captains (aka the hall monitors) and Balloon Animal (aka the pep squad)
1pm
More musical improv!  Hardy Boys, Berserkus, and a musical jam
2pm
Gals & Dolls, Black Belt Siblings (members from the original team), Passenger (our first conservatory grads)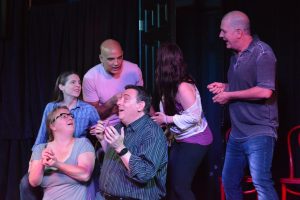 3pm
The Boaz Variety Hour! with 2 Men Will Move You, Maxed Out, and John Goes Solo (we have no idea either - you don't want to miss this)
4pm
Slack to the Future, Swim Team, Ken Burns
5pm - HAPPY HOUR!
 

BAR IS OPEN.

This is Why Daddy Drinks Happy Hour with 3 Men & A Baby followed by an ALL THEATER La Ronde Set - everyone plays!  It's a giant cocktail party scene (all the way to the bathrooms?!)
6pm
Roar, Money Fire, SamSarah
7pm
AASscrap, FCI's Willis, Stage Monkeys SD
8pm
Killdozer, Found Family with special guest The FCI Mutiny Pirate! 
9pm
It's F#*king Christmas Again! (You Scrooge!!!) - Final show! with surprise appearances by characters of f#*king xmas shows past.  SEPARATE TICKET - RESERVE YOUR SEAT IN ADVANCE  (Improvathon attendees will be admitted space available after all xmas show ticket holders are seated.)
10pm
FCI's first PDI team Figment, Our 2nd Conservatory group Where's Brenda, and one of our most recent grad groups In The Buff
11pm
"I Knew You Were Leaving So I…"  In the first few years of the theater founder Amy Lisewski used to do a set with guests called "I Knew You Were Coming So I…".  
This show starts off with Kat Brown as her guest and concludes with walk-ons by members of the FCI ensemble.
HAVE ONE LAST LAFF WITH US & HELP US MOVE!
---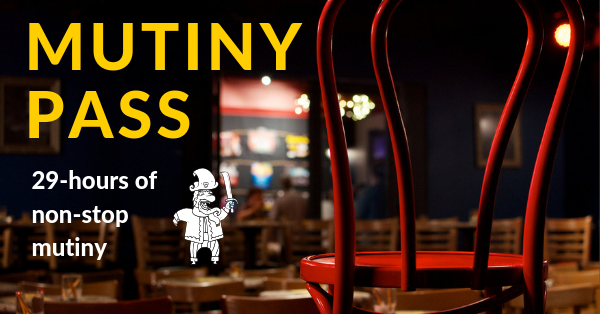 $29 LAST LAFF PASS
$1 per hour!  Support us with a $29 improvathon pass and enjoy all the LAFFs. AND... Receive a commemorative gift!
GET THE PASS
Can't make the mutiny but want to contribute?
Or, simply Venmo your contribution to @finestcityimprov.
THANK YOU!