Every third Thursday of the month, we have a special themed night of improv. This month, we're celebrating Fringe Festival performers!
In addition to traditional Thursday teams Subject to Change (9:25pm) and Fullest House (8:00pm), we're welcoming two award-winning visiting teams: Happy Hour and Bad Habits!
Happy Hour is a comedy troupe trained by Second City and Improv Vegas, performing in improv and theatre shows since 2008. Notable performances include the Vancouver TheatreSports St. Valentine's Day Massacre Tournament, Denver Improv Festival, and the Del Close Marathon.  Happy Hour is also the organizer for the Downtown Vegas Improv Festival.  Happy Hour members' award winning play, Dick Johnson Private Eye, is being featured at the 2018 San Diego International Fringe Festival.
Happy Hour goes on at 9:00pm on Thursday, June 21st.
Cast Members:
Anthony Barnaby
Maxim Lardent
Mark Valentin
Then, stick around for Bad Habits.  From the 20-time award-wining company that brought you Beau & Aero and Bella Culpa (Edmonton Fringe Best of Fest 2015&2016) – a show about two sisters of faith struggling to find the light… and stay in it. An absurd comedic look at the lives and habits of Sisters Florence and Margarine, & the temptations they face. SINsational! NUNsensical! POPEular! Mind ALTARing! The Holy Grail of Comedy! We pray you'll join us.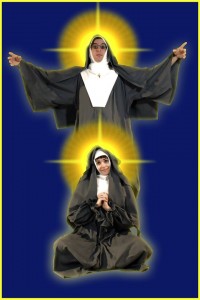 Don't miss these shows!