The word "improv" often strikes fear in most people who are not familiar with the term. Improv is a tool used by comedians to create comedy in the moment on stage. The benefits of improv training go beyond the stage to help those who study it become more connected, adaptable, and present in all of life's situations. We've delivered these benefits to teams at GO PRO, Sony, Kaiser Permanente, and dozens of other companies large and small for many years.
We loved the variety of exercises to get us all working together. It was exactly what we needed!

Tana Lorah, Kaiser-Permanente
Now, you don't have to wait for your company to bring us to you to get these benefits! Join us for a jam-packed 1/2-day workshop on July 24th and see why great companies like WD-40 and Reef use improv to grow their leadership and sales teams. Improv For Business is designed for individuals looking to improve their communication skills, leadership abilities, and workplace experience.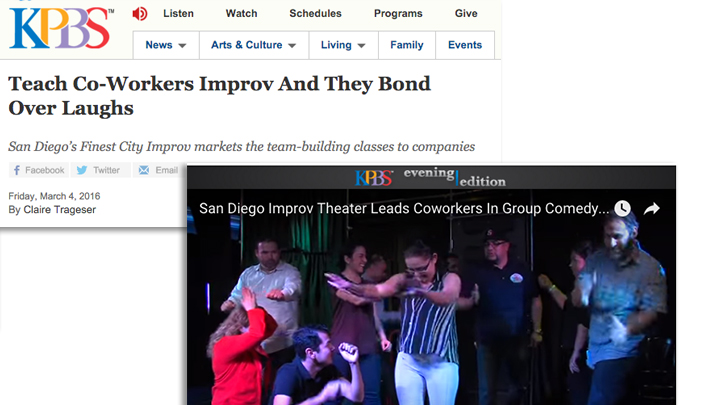 What You'll Learn
How to take bold decisive action in each moment to succeed under pressure.
Ways to quiet your inner critic and "think on your feet."
How to identify your comfort zone and take every opportunity to stretch it.
Why we train ourselves to be open to making and learning from mistakes.
How to be more flexible and embrace changes.
How "Yes! And…" creates connection and collaboration.
How You'll Learn
ACTIVE! We create a learning lab environment where every participant feels supported and able to take risks
FUN! No one is expected or encouraged to be funny, but everyone will be laughing a lot – and everyone loves to laugh
ENGAGED! Everyone practices being "in the moment", collaborating as a group, and laughing at our "mistakes" while working to achieve the shared goal.
DISCUSSIONS! Most importantly, we spend ample time debriefing the experience and applying it to real-world challenges or goals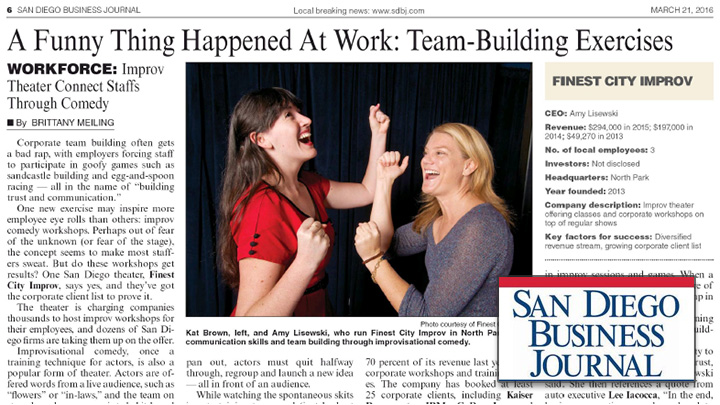 Who You'll Learn With
Fun, engaging, and experienced instructors! Our facilitators aren't just actors or comedians, they have real experience in business and are highly adept at helping participants discover connections between the skills improv builds and their everyday work lives
A group of 14 other professionals just like you that are

Ready to get out of their comfort zone and take risk!
Wanting to make lasting improvements in their daily lives!
Make decisions with speed and conviction
How To Join Us
Save the date! July 24th from 9-12:30
Location: 3746 6th Ave. San Diego, CA 92107
Contact Jesse Suphan for an invoice.
Are you an employer looking to send a couple key employees? This is perfect for you! Contact Jesse Suphan for registration.
If you are looking for something for a larger group please reach out to jesse@finestcityimprov.com for a customized workshop!